200-Hour Hatha Yoga Teacher Training
Traditional Hatha, Chakras & Kundalini Yoga

Mukta Hatha Yoga is the Yoga of Awareness & Oneness
200 Hours Hatha Yoga Teacher Training with Mukta Hatha Yoga is a unique opportunity to learn Traditional Indian Yoga from an Indian Yogi and integrate it into daily life.
---
What is Mukta Hatha Yoga Teacher Training?
An Eastern Science to Purify the Body, Mind & Heart
Yoga is not a religion but the Science of the soul which doesn't depend on any belief system, rather seeing truth as it is beyond all attachments, illusions and false hopes, without distorting reality according to our own desires. It is a state of pure awareness where all the mental fluctuations are silent and thoughts are dissolved. Yoga is not a philosophy, it is a way of living and experiencing life with awareness. It is about dying to each passing moment to live in the present without the interference of any memory and letting go the mind which is conditioned for millennia. It is concerned with the transformation of our total being beyond all intellectualization.
Yoga teaches us femininity or the psychology of moon energy repressed for too long due to male oriented societies based on intellect rather than feelings. Femininity is the nourishment for love and intimacy. There is no meaning and colors in life without love. Femininity is an art of surrendering one's dry logical mind to the mystery of life which can not be understood with a male intellect only. From the depth of femininity, compassion and forgiveness is born. Femininity has the power to melt all the sufferings to celebrate love and the abundance in life. Love is the medicine of all problems.
Mukta Hatha Yoga Teacher Training helps step-by-step to purify the body, feelings and mind through asana, pranayama, chakras, mantras, sounds, kundalini, kriyas, meditations and understanding of mind, its modifications, distractions and fluctuations. Patanjali Yoga (Raja Yoga) is a scientific self-inquiry, an effort to become more alert and aware of our habits, patterns in order to dissolve all the darkness, suffering and limitations and to reveal our true nature. It teaches us to train our body, mind and soul to align with the reality of life in order to live a harmonious life.
Curriculum
During Mukta Hatha Yoga Teacher Training, you will study the following tools and disciplines of Yoga, and learn how to integrate it altogether:
Asanas
Yoga postures to unblock channels in the body so life force energy can flow.
Psychology of Asanas
Preparation exercises
Sun Salutation and its benefits
Daily practice of Yoga Asanas related to Chakras and Traditional Kundalini Yoga
Fundamental Asanas in depth, their postural and energetic alignments, benefits and contraindications
Relaxation and sitting Asanas
Philosophy
Psychology of Raja Yoga and Hatha Yoga
Essence of Patanjali Yoga Sutras and how to integrate the wisdom in a modern daily life
The 8 Limbs of Yoga
The Yogic Life style & Ethics
Psychology of Traditional Kundalini Yoga
The psychology of the 5 Bodies
Meditations & Mantras
What is Meditation
The Science, Psychology & Benefits of Meditation
Daily practice of different methods of Meditations
Meditation as a conscious way of living
Techniques of Self-Inquiry
The Science & Secrets of OM Mantra and Sounds to heal the aura and de-hypnotise oneself from all the hypnosis given by others
Mantra initiation and practice chanting
Pranayama
Breathing exercises to enhance the health and vitality of the body and mind
The Yogic breathing techniques
Understanding the physiology of breathing
The Secrets & Benefits of breathing
Daily practice of various techniques of Pranayama, from beginner to advanced techniques
Understanding the psychology of Prana or bio-energy, its implication in daily life, how to heal/fix it
Bandhas & Mudras
Locks and gestures of energy
The 3 bandhas, how to use it rightly and its spiritual implications and relations with the Kundalini energy
The main Mudras and how to use it rightly
Yogic Kriyas
Ultimate cleansing techniques to purify the body and energy
Different types of Kriyas
Their benefits and methodology
Anatomy & Physiology
Energetic Anatomy of Traditional Chakras & Kundalini
Fundamentals of anatomy (organs, muscular, skeletal, nervous, cardiovascular, breathing, digestive, endocrine)
Art of Teaching Yoga
Teaching Methodology
Teaching Psychology
Teaching Practice
Hands-on Adjustments
Asanas Alignment, Modifications, Usage of Props
Sequencing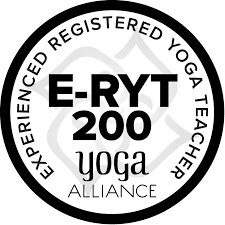 International Yoga Teacher Certification
Trainees that meet all the requirements after the assessments will be eligible to receive the 200 Hrs International Yoga Alliance Certification and register as a RYT-200 (Register Yoga Teacher).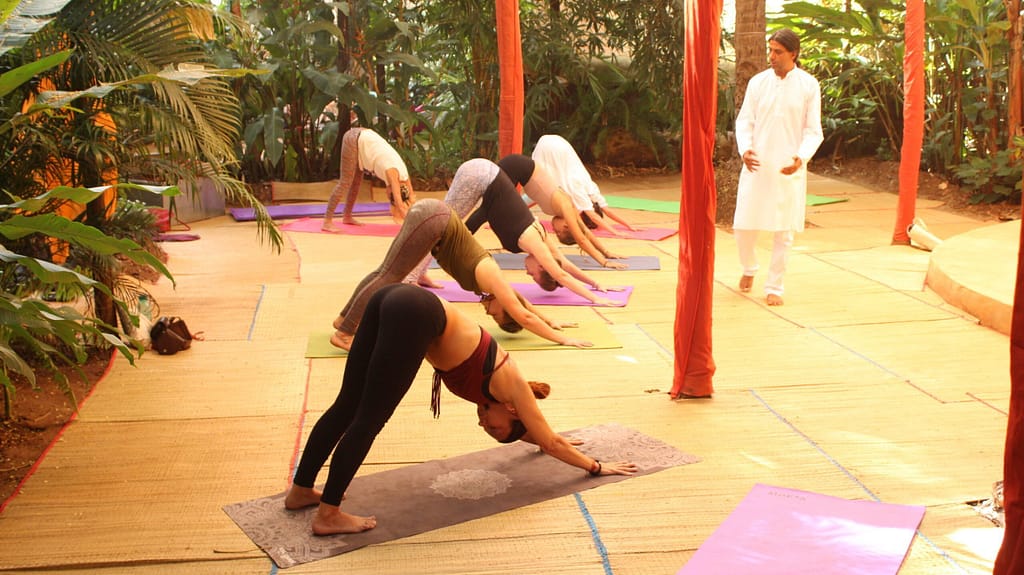 Daily Schedule
This is an sample schedule, we will provide the detailed schedule every week:
7:00-9:30: Warm Up, Pranayama & Morning Asana Practice
9:30-10:30: Breakfast
10:30-11:45: Yoga philosophy / Energetic Anatomy
11:45-13:00: Art of Teaching / Postures Workshop / Anatomy & Physiology
13:00-16:00: Lunch, Break, Rest & Self-study
16:00-17:30: Afternoon Asana Practice
17:30-18:30: Meditation, Chanting
19:00: Dinner
Our Main Teachers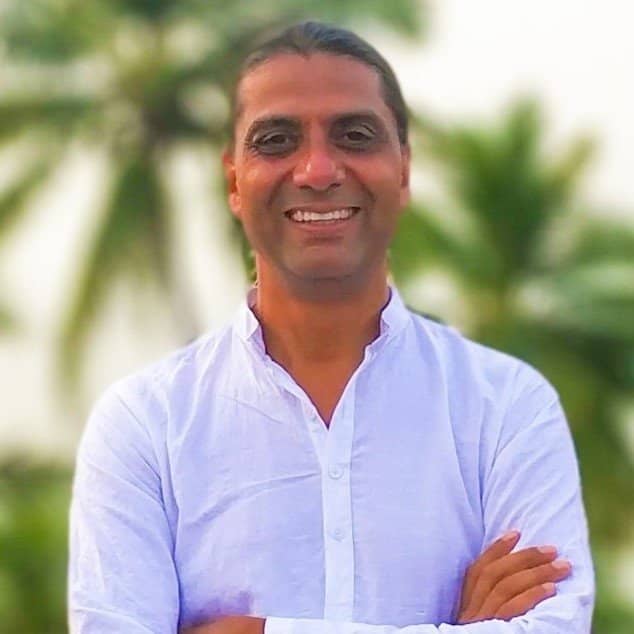 Mukta
Yoga Philosophy, Asanas, Meditation & Pranayama Teacher & Lead Trainer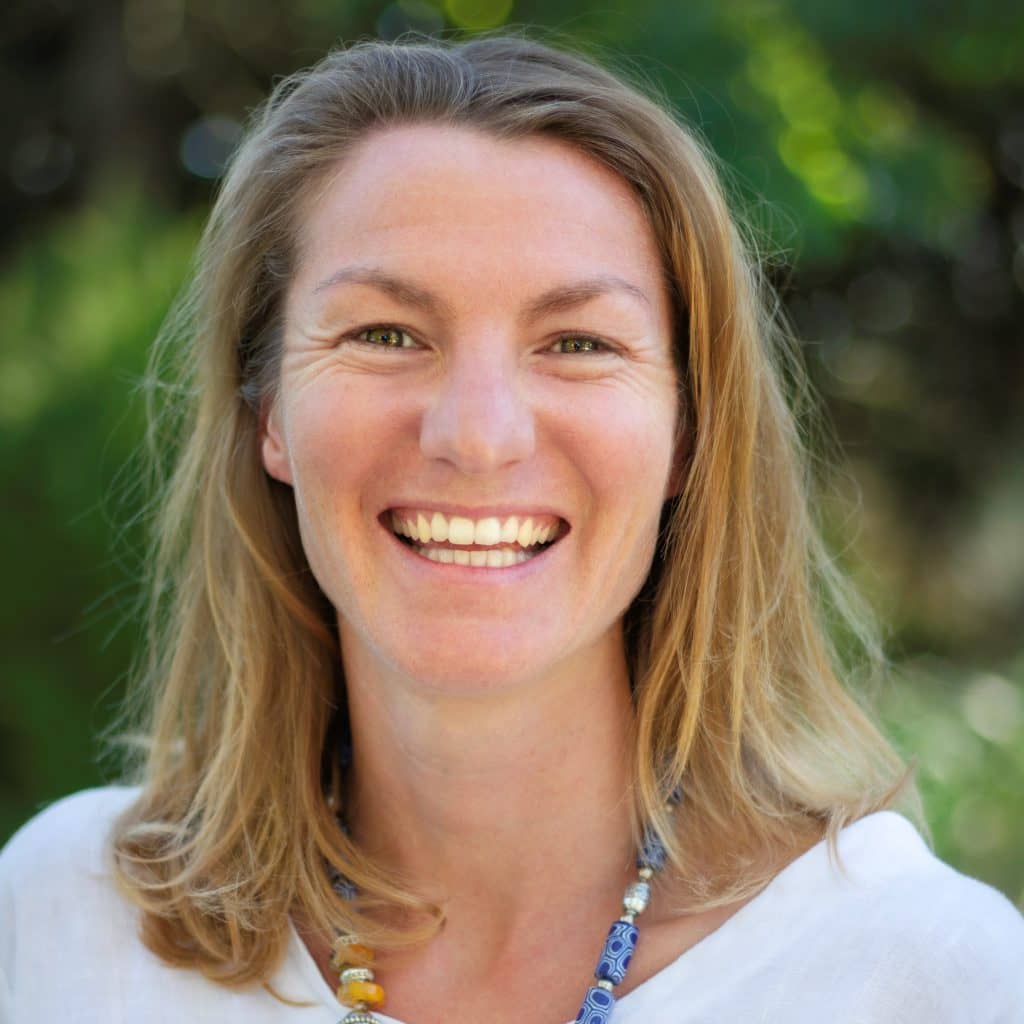 Marine
Asanas, Meditation, Pranayama, Art of Teaching & Anatomy Teacher
What makes this Hatha Yoga Teacher Training special?
Traditional Yoga in a Modern Context
Mukta Hatha Yoga Teacher Training is a unique opportunity to delve into the authentic traditional yoga from Ancient India and learn to integrate this Eastern Wisdom into our modern society. Learn the psychology of Yoga from an International Team of Teachers who share practical tools to apply spirituality nowadays and overcome the challenges of a Western daily life, to live healthily and harmoniously.
Build Solid Foundations
The 3 Week-Program is designed for sincere people, from beginners to practitioners, who wants to understand themselves through a deep exploration of the Fundamentals of Yoga & Meditation and its relations with Chakras and Kundalini. It is a time to build solid foundations in your personal practice for a spiritual growth, as we put together the core aspects and tools of Traditional Yoga.
Not Just For Teachers
We practise a yoga that cleanses, balances, heals and nurtures our physical, energetic, mental and spiritual body. Combining the study of the mind with the practice of yoga postures, meditation, breathing, pranayama and other ancient yogic techniques done with discipline and awareness helps to purify the body and prepare it for a more mindful, free and peaceful way of living, on the path towards Kundalini awakening.
Who is this Teacher Training for?
Who is open to learn and transform one's life in order to manifest one's potential, whether you are:
Already a practitioner of yoga but feel there is more to it
Yet, your heart and mind are open to new perspectives to transform your daily life
Who wants to begin on the path to becoming a Holistic Yoga Teacher:
Get a integrated and clear understanding of what is Yoga
Learn skills to teach yoga with clarity and confidence
Help and inspire your community to live a meaningful, happy and balanced life
Who wants to benefit his/her professional and private life:
Enhance your will power and inner confidence
Feel calmer, happier, less judgmental and more motivated
Sparkle love, inner tranquillity and peace, at home and at work
Increase balance, flexibility and easiness with the body
Improve strength and stamina
Ultimately, bring abundance in your life, from a successful career to harmonious relationships and a healthy body
Read More about the Benefits of Yoga
*Please note this teacher training is not for those who are only looking for physical exercises or fitness*
Dates & Prices
---
What's included:
Teacher training course
21 nights' accommodation
3 homemade vegetarian/vegan meals per day for the whole training
Water and herbal tea all day long
Course materials
| | |
| --- | --- |
| Room Types | Prices |
| Shared Twin or Triple Room | 2,850 Euros |
| Private Double Bedroom | 3,550 Euros |
Our Retreat Centre in France
Mukta Hatha Yoga Teacher Training is held in Aveyron area, a hidden treasure of Southern France. It is located on a hill in a breath-taking scenery, famous for its peace, authenticity and lovely climate, the perfect place for nature lovers to melt your heart and mind.
Onsite, you will find all the amenities from comfortable bedrooms, ensuite bathrooms, living room, homemade food, dedicated yoga spaces, yoga mats, WIFI, towels, washing machine, car park, private garden with a stunning view of the valley with sun loungers.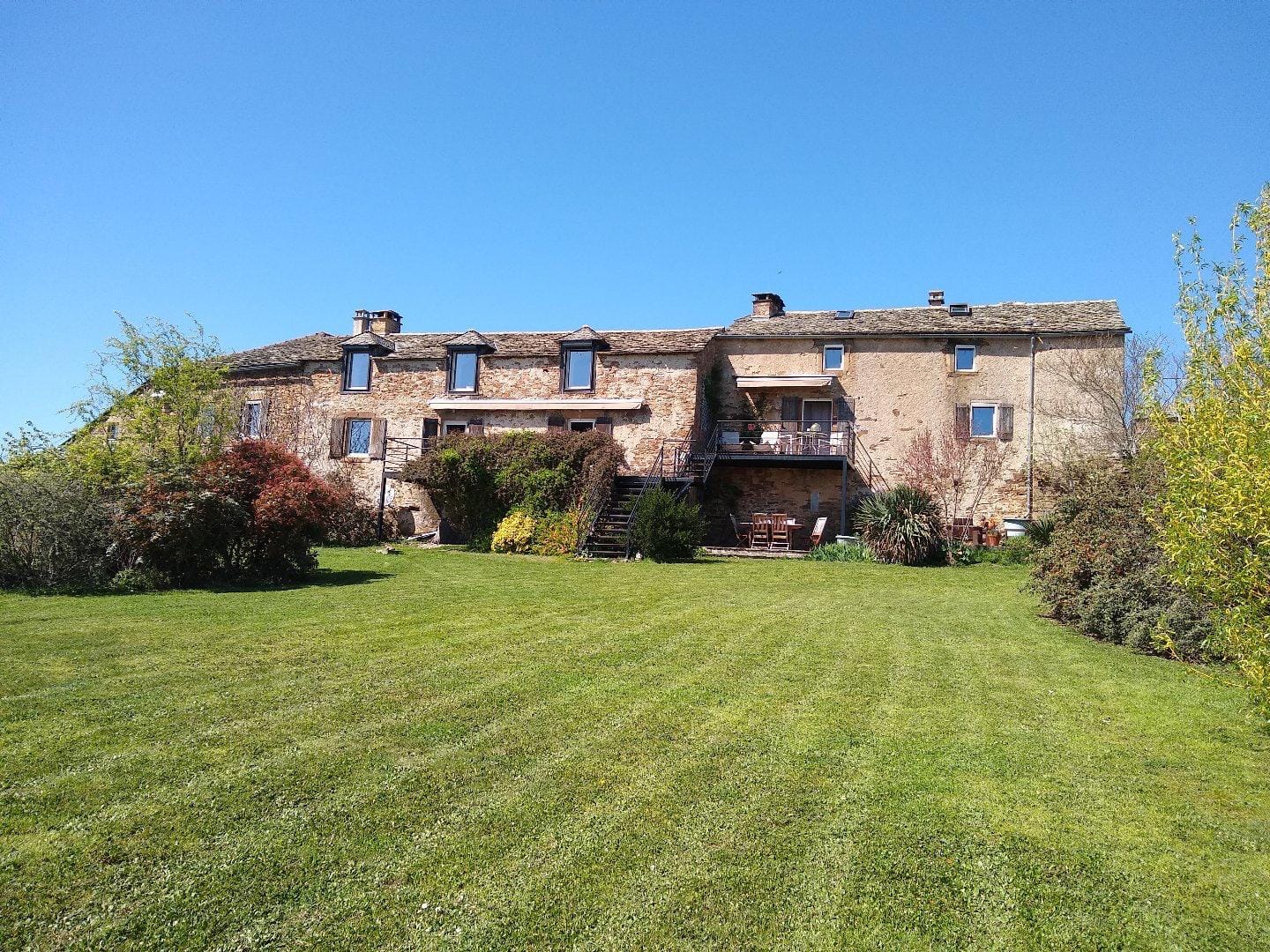 How can I join the TTC?
To apply for the Hatha Yoga Teacher Training, please fill up the application form. When your application has been approved, you will be required to proceed to the payment of a non-refundable deposit of 900 Euros. Your seat will only be confirmed upon receipt of the payment.
Before the start of the YTTC, we will send you an email with all important information about the course, logistics and instructions.
If you have any questions, please feel free to Contact Us
FAQ's
Training & Enrolment
I don't want to be a Yoga Teacher, is a Teacher Training suitable for me?
Yes! Yoga is first a journey into oneself. In this teacher training, first and foremost, you will learn to 'be your own teacher', the discipline and tools to be confident in your own practice, then when you are ready and if you feel the call, you can use these tools to share this wisdom with others. But first, one must integrate it within oneself.
I am new to yoga, can I join the yoga teacher training?
Yes! There is no level or previous experience needed, what is important is your openness, dedication and receptivity to learn.
My English is not very good, can I still join the TTC?
Yes! Course are all given in English but basic English is okay because it is all about practical knowledge and your openness to receive through your heart beyond mind, so language can not be a barrier.
I am not flexible, can I join the yoga teacher training?
Of course! Mukta Hatha Yoga is not about flexibility or physical performances or gymnastic, rather what matters is the way we do the asanas, with our totality, presence and awareness in the moment. Moreover, the course is designed so you can improve on your flexibility during the 3 weeks.
Is there any age limit?
No, all are welcome beyond any age. There is no age to start your journey on the yogic path.
I have a medical injury or I am pregnant, can I take part in the Teacher Training Course?
First, we will require you to consult with a general health practitioners or a doctor before joining the course, and inform us via the form so we are aware of your medical condition.
How many students are in the TTC?
Group varies between 10 to 20 students. Please note that each TTC requires a minimum of 5 trainees.
Should I read some yoga books before the training?
It is up to you. There are many books in the market but most are from scholars and not Masters. Moreover we are aware that some people don't have much time for it, and it could be confusing as Yoga is a vast knowledge that we put together it fundamental principles for you during the training.
What are the teaching opportunity during the course?
From the first week, you will start learning and practicing the methodology of teaching so that towards the end of the training, you can teach a class.
Logistic
What time should I arrive on the first day?
The course start with a Welcoming Ceremony at 16h00 on the first day, therefore we recommend you to arrive at least a couple of hours beforehand to settle down. Moreover, your lunch on the arrival day is included, if you are arrived already.
Do you provide yoga mat?
Yes, although we suggest you to bring your own yoga mat for comfort and sanitary measures.
Should I have an insurance?
Yes. Moreover it is the responsibility of the trainee to take care of its health and not to injure him/her-self during the whole training. We will not be held responsible for any injuries or other medical issues and ask you to have your own liability and health insurance.
What can I do during the days off?
You can rest at the retreat centre and enjoy the swimming pool, take a trip to the surrounded famous villages of Cordes-sur-Ciel or Saint-Antonin-Noble-Val, explore the French markets, bath in the river, trek in the forests, or take a trip to the Mediterranean sea or the famous Gorge de l'Aveyron. The Occitanie Region has endless gems to explore!
Please note that your food is included on the days off, unless you wish to eat elsewhere.
What our Students Say!
Jessie
Mukta is the real deal – he will not give you the answers, he will get you to discover them for yourself. His words remain with me to this day; invaluable teachings.
He and Marine make a great duo and you will be well and truly supported in your training. Highly recommend !
Alice
A truly life transforming training! It give me the discipline to be healthier in my body and my mind. It allowed me to face my old habits, my hopes and garbage that was stopping me to grow as a happier and better person.
It really helped me to put together Yoga on many different levels, because before I thought it was mostly physical and the all philosophy was very difficult to grasp, but now I can understand the bigger picture and it helps me everyday. Thanks a lot Mukta for putting together and sharing all these tools.
Ana
I have done a teacher training course with Mukta and it was absolutely beyond all my expectations. I have been practicing yoga for more than 10 years and in this school, I finally touched the true essence of what all Yoga is about.
I have done my training nearly one year ago and since then, everyday I practice yoga, meditation, breathing and other techniques that I've learnt there - it really made me my own yoga teacher.
And it's also helping me in my daily life, I feel more grounded, present and aware of myself.
I felt that Mukta wisdom and energy involved all students in such a deep journey beyond just physical practice. I felt he is a real teacher, because his wisdom and teachings are from his own life experiences.
I totally recommend this school for anyone looking for the essence of yoga.
Maya
Real knowledge is not written in books, not said in spiritual words.. Real knowledge is lived and experienced with sincere and wise teachers like Mukta .. Mukta is one of a kind person .. very generous in sharing his deep knowledge and experience.
The course is very intense in its composition and information, with the flow of beautiful energy and love.. If you are looking for spiritual growth this is the right place to start your journey..
All my love and gratitude to a beautiful teacher Mukta…
Pauline
A perfect moment of relaxation and beautiful experience with Mukta who immediately put us in confidence and especially made us share this spiritual universe.
I was able to benefit from his knowledge, his passion and his great experience : listening, adaptation, patience, technique. It was a wonderful discovery, in a respectful and caring way.
I feel more grounded every day, much more at peace in my heart and mind. It was a very purifying experience for me and helped me in my current life. A beautiful experience that makes me want to continue... Thank you very much.
Lily
Finally an authentic Yoga school where I felt a wisdom at heart, and not a copy of Indian knowledge put together for "spiritual consumerism".
Mukta is such an amazing teacher, he is not here to say what we want to hear but to share first hand knowledge, and that's really unique, courageous and helped me a lot to grow in my spiritual journey and to be a better version of myself.
I recommend it to anyone looking to enter into the field of a master and learn the true meaning of Yoga, ready to be challenged and let go to feel love inside.
Thank you Mukta Ji for showing the light towards awakening.
For more Testimonials about Mukta's courses, please click here