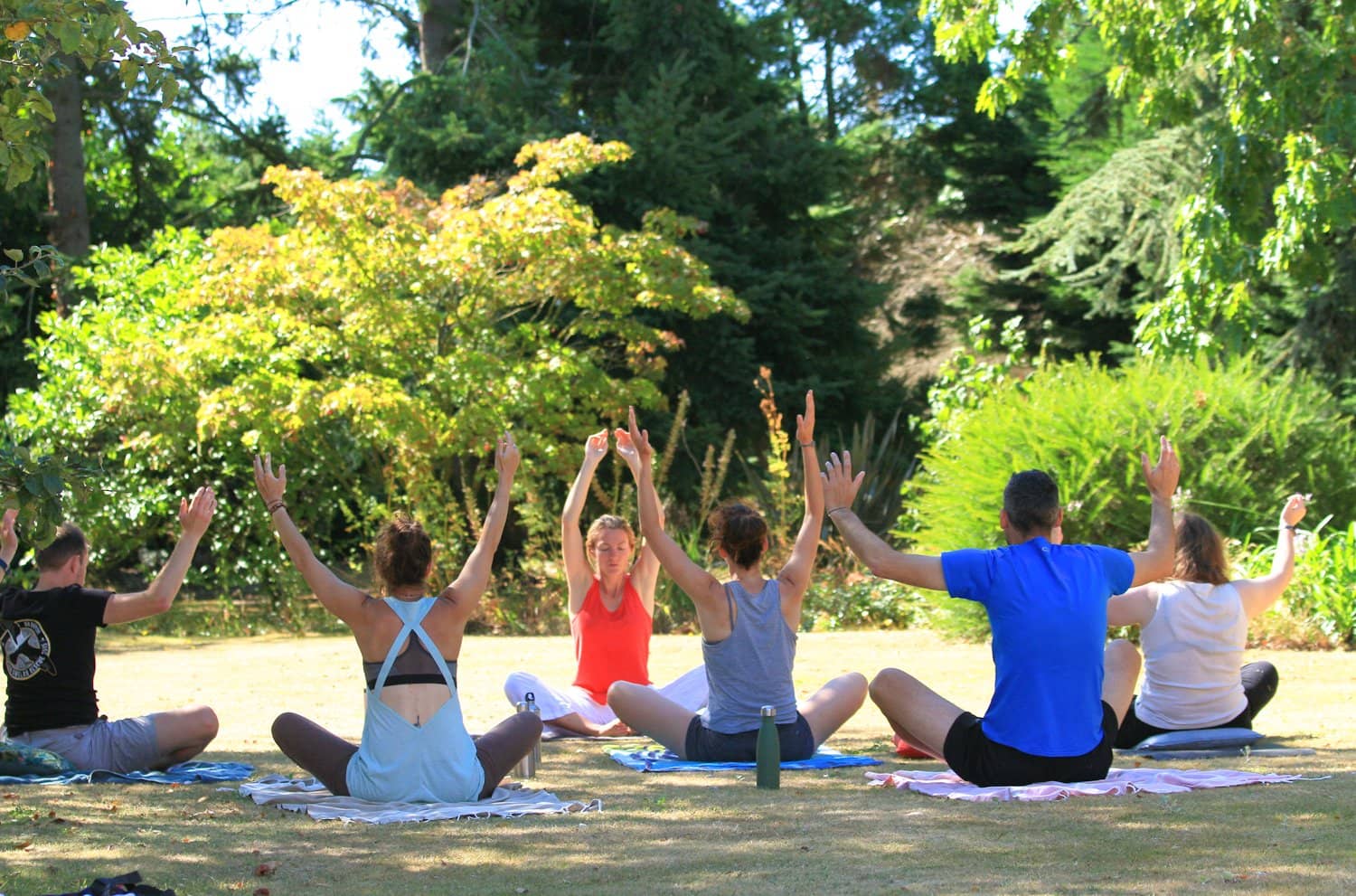 Hatha Yoga Teacher Training in France
Mukta Hatha Yoga Teacher Training Courses in France are operated in the Aveyron, a hidden treasure area of Southern France. We are perched on a hill in a breath-taking scenery, famous for its peace, authenticity and lovely climate.
Our Retreat Centre is easily accessible, in a very tranquil environment. The mixture of sceneries makes it very unique. From valleys, rivers, lakes, forests, melt with Mother Nature. This place is the ideal spot for nature lovers.
Onsite, you will find all the amenities from comfortable bedrooms, bathrooms, living rooms, garden, homemade food and separate yoga space.
We provide with 3 homemade vegetarian/vegan meals per day during your stay. As much as possible, we try to use fresh organic local products.
About the rooms:
You can either choose a Private Double bedroom or a Shared Twin/Triple Room
Shared rooms are equipped with single beds
Shared rooms are mixed gender to share with another participant of the course
Bathrooms are mostly ensuite or on the same floor to share with the next room (according to availability at the time of booking)
Each room are equipped with a wardrobe
Other amenities onsite: WIFI, yoga mats, towels, bedsheets, living room, washing machine, car park, private garden with a stunning view of the valley, eating area and sun loungers.
The centre is located between the Mediterranean climate and the Oceanic climate, giving it a sense of tropical weather, with a mild winter and a hot summer.
Moreover, the Occitanie Region has endless gems to explore on your free time. On your free time, you might like to relax at the Retreat Centre, or explore some of the 20 trekking routes departing from the village, take a trip to the nearby towns/villages, bath in the Tarn river (only 5 min drive from our centre!), do some Canoe Kayak, or take a longer trip to the Mediterranean sea.
This top quality environment will ease your heart and mind.
Easy International Access
Our Retreat Centre is easily accessible by air, rail and road:
By flight (domestic and international airport): land at Toulouse-Blagnac Airport. From there, take a taxi or the Tramway or Direct AERO Bus to Toulouse-Matabiau train station and

hop on a direct train (approx 1h

) to Albi town. One way is between 5 and 15 Euros.
At Albi train station, we will pick you up and drive to the retreat centre located 45 minutes away. If there are more than 1 person arriving at the train station on the Sunday morning, then we will wait for everyone and meet at 12h30 for departure. Alternatively, if you don't wish to wait, or you arrive later, you can book a taxi to the retreat centre at your own cost.
By rail: Direct train from Toulouse-Matabiau train station to Albi train station. Read above section "At Albi train station" for all details
Alternatively, we can organise an airport pick-up at extra cost, please contact us for more details.
By Car: car park space are available at our Retreat Centre.
Please feel free to ask us any advice regarding your travelling trip!