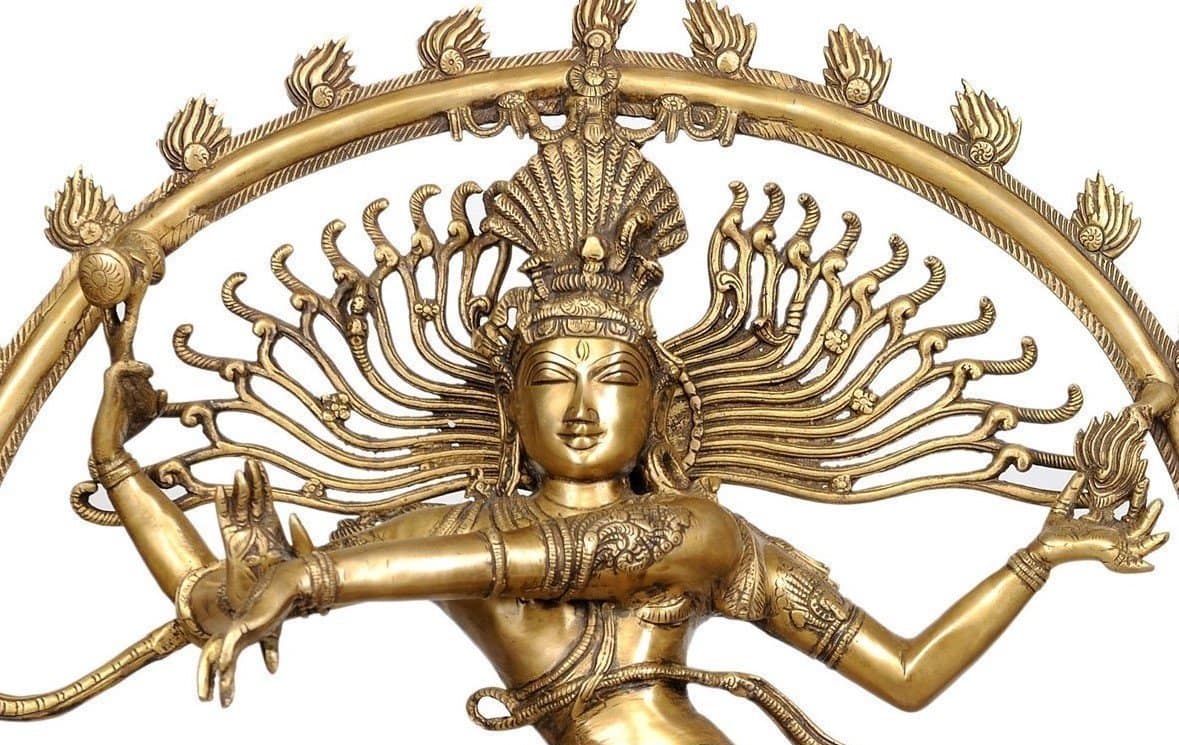 Yoga, Meditation & Breathwork – Weekend Retreat
De-stress, Detox & Revitalise
This is a retreat to de-stress, detox, revitalise and reset oneself from the world and its turmoil, to see clearly with a new perspective and to live more blissfully. During this weekend, taste a blend of yoga, meditation, breathwork and eastern philosophy talks to let go negative emotions, anxiety and stress to live in abundance. Dissolving all the blocks and recharging oneself is the key to heal, relax and live a harmonious and creative life with oneself and the others.
True spirituality is to live a vibrant life full of joy and clarity, so to be aware of oneself is important in order to dissolve psychological fears and misconceptions. A clear person is able to love and let go unwanted hangovers of the past. The secret key to success is to live in the moment, with no burden of any kind.
This retreat is a complete package to align one's body, mind and feelings to adapt to the new change, which comes as we are ready to live a fresh life again. A mind which is stressful can only create confusions and conflict. So, it is very important to have a relaxed mind with new perception to deal with life with love and compassion.
An occupied brain never gets a chance to recover itself and it creates all sorts of problems which multiplies and effects our efficiency and productivity. So, it is very important to rewire our brain so it doesn't have any psychological and physical side effects. This retreat is the art of relaxing and rewiring an individual to function properly in all the environments and situations. A healthy person can have healthy relationships and helps to create a healthy environment for others to live in peace and harmony.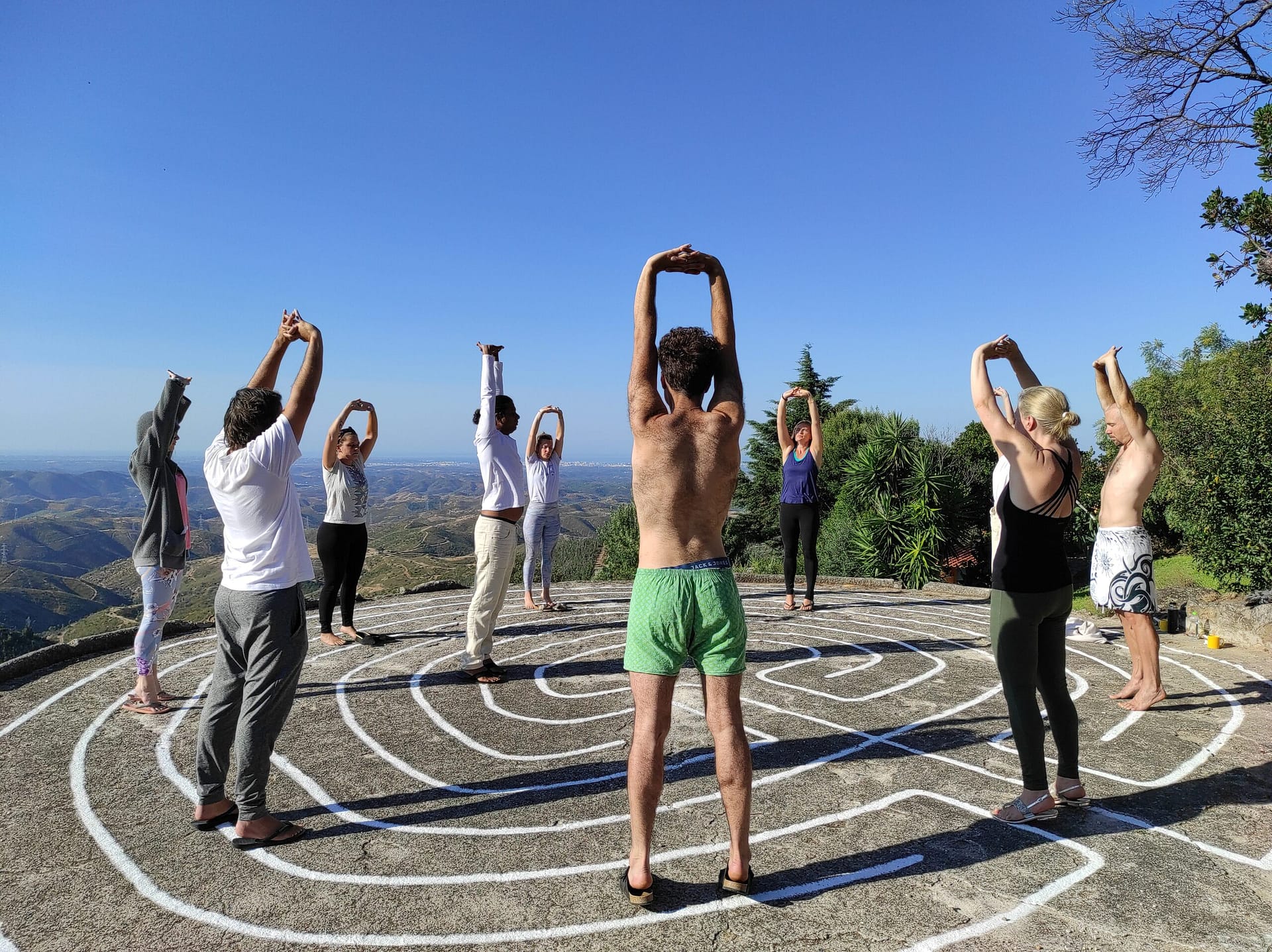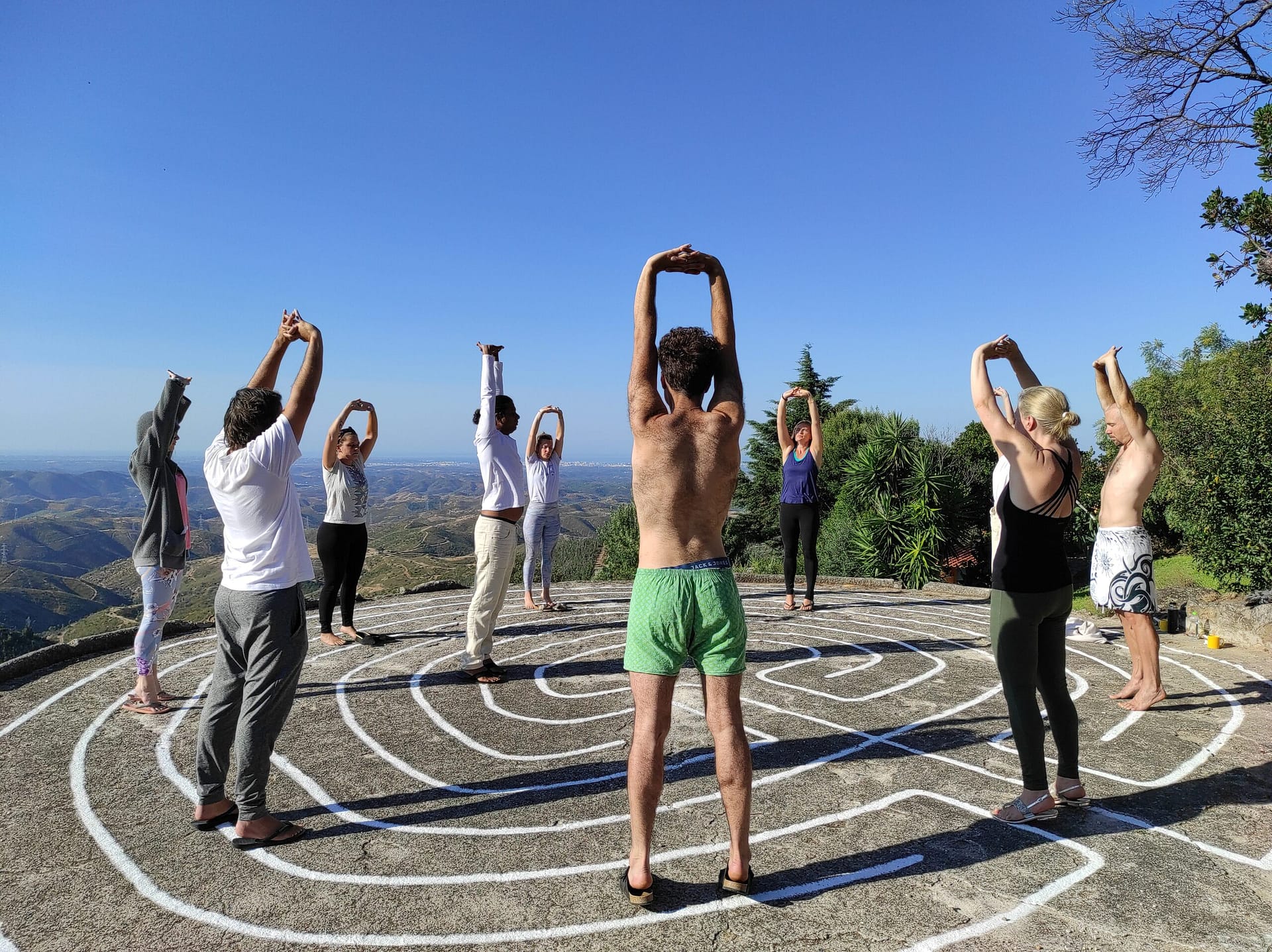 During this retreat you will:
– Taste the essence of Eastern Wisdom with yoga, breathwork, meditation, mantras, visualizations, chakras and self-enquiry techniques
– Attend Live Talk / Satsang with Mukta, a moment during which subjects related to daily life (fear, mind, love, freedom, stress, etc) are discussed to spark a spiritual insight. It brings light and clarity to the shadows and obstacles of our life, and bring us back to our true nature which is freedom, easiness and love
Who is this retreat for?
– Anyone new to yoga, meditation and breathwork – you only needed awareness and presence in the moment
– If you already have a practice of yoga, meditation or breathwork and you want to deepen it
– Anyone that needs to stop and have a break from daily routine but can't afford holiday or can't travel anywhere
– Anyone whose heart and mind are open to new perspectives to transform their daily life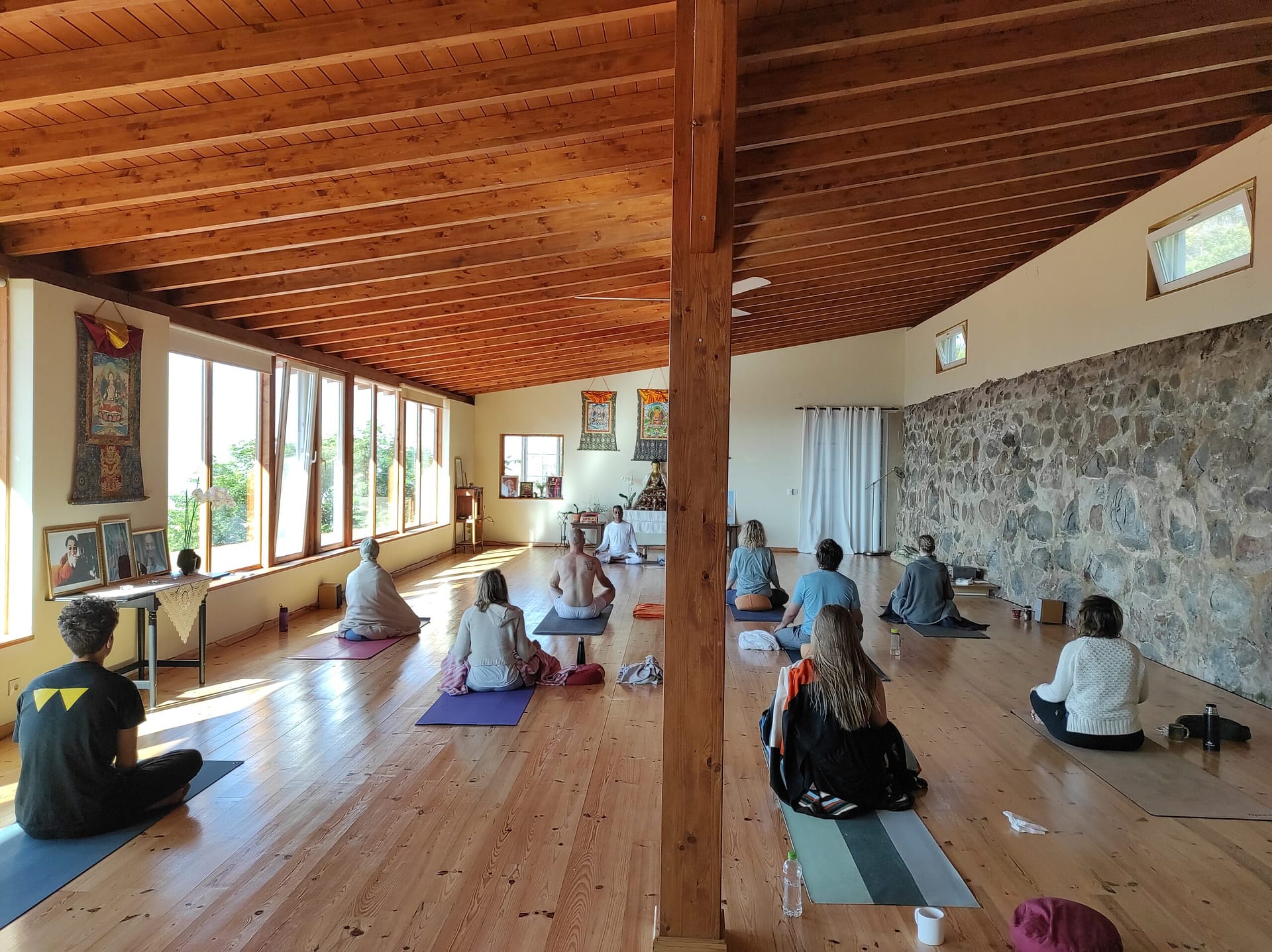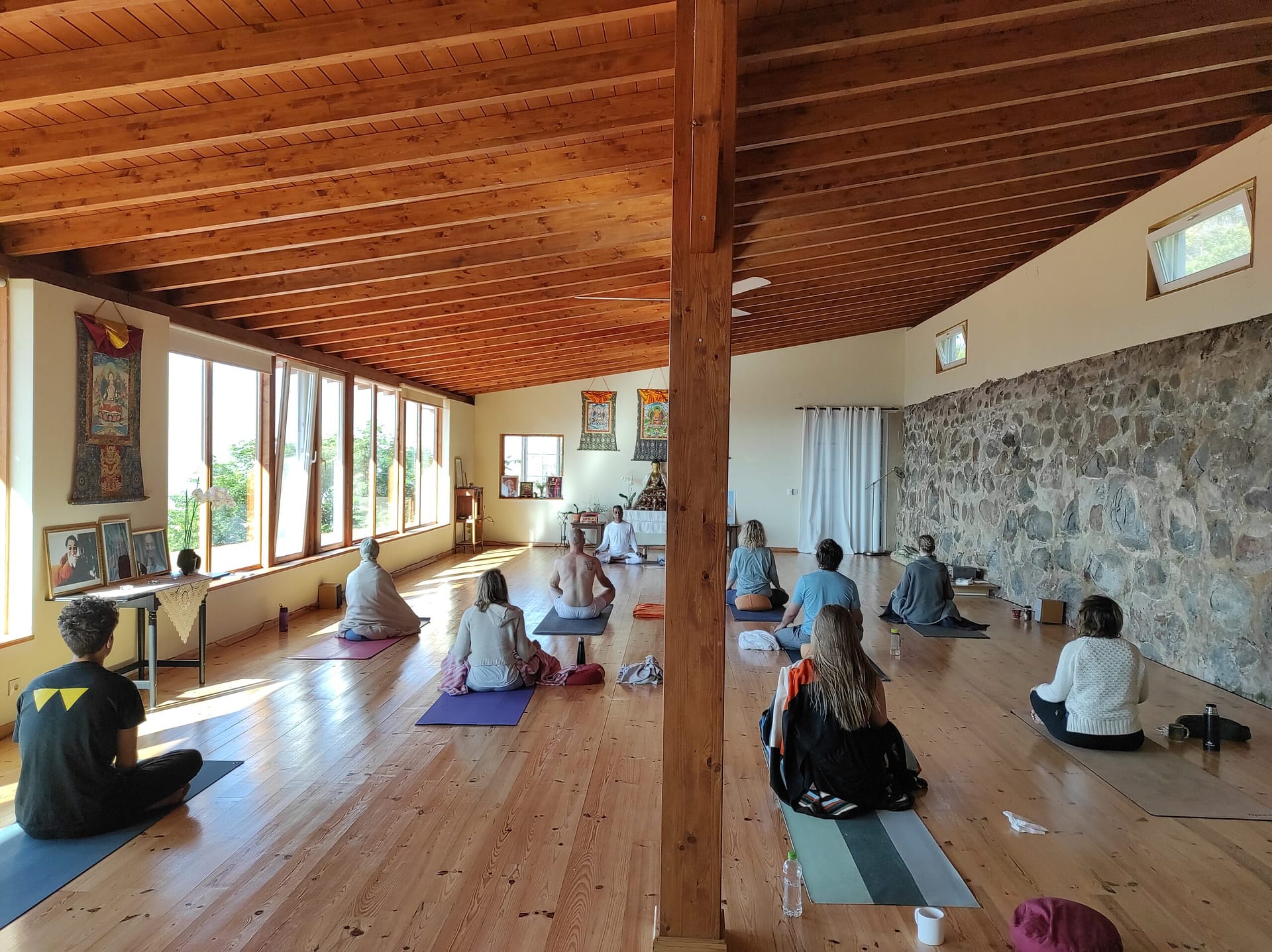 Contribution
We require an administration fee of €50 per person. Then we kindly ask you for a voluntary donation according to your heart and financial capacity. You are welcome to make a donation any time before, during or at the end of the retreat.
Find out more about The Vision & Donation
Apply
Click on apply and fill up the application form. Once your application is confirmed, you will be notified by email with a link to complete your registration by proceeding to the payment of 50 Euros administration fees. Once your payment is received, we will send you more details to access the retreat online.
Before registering, please read the Terms & Conditions and Privacy Policy carefully.
FAQ's
For more details related to how online event works, please check our FAQ's page!
Hourly Schedule
Saturday
9:30

-

11:00

Welcome Opening + Breathwork & Yoga Class with Mukta
11:00

-

15:30

Food Break & Rest

Perfect time to contemplate, remain in silence, go for a walk
15:30

-

16:30

Guided Meditation
16:30

-

18:00

Talk/Satsang with Mukta
Sunday
9:30

-

10:30

Breathwork & Yoga Class
10:30

-

15:30

Food Break & Rest

Perfect time to contemplate, remain in silence, go for a walk
15:30

-

16:30

Guided Meditation
16:30

-

18:00

Talk/Satsang with Mukta
Speaker
Mukta

Visionary, Life Coach, Yoga & Meditation Trainer

Mukta is known to simplifies spirituality for the modern men and women making it relevant in today's world. His understanding of the Western mind is unique because he lived and worked most of his life in the Western world.

He shares this practical understanding of the essence of Mysticism with others to live daily lives in the moment.